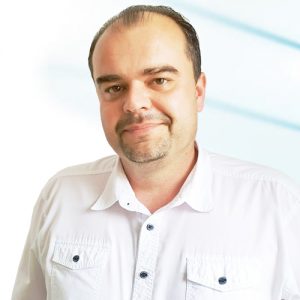 A graduate of West Timisoara University, Faculty of Economics, general Economics, Catalin Mirea feels a lucky man every day: he has a wonderful family, a successful child, warm friends and competent colleagues who always prove that they are good teammates.
Optimism and positivism are feelings that always accompany him in his personal life and professional activity, making him a motivated and hopeful man
An undeniable career advantage is the fact that he has had and often has people who helped him and are helping him to evolve, to want more and not to give up when obstacles arise. Preventive spirit does not admit that dangerous and bad things can happen, taking retroactive measures to prevent their occurrence.
Critical and analytical spirit, Catalin has stood out since 2008 in the field of consulting, and national and European funds, the general areas of competence being aimed at: regional development, rural development, entrepreneurship, and human resource development.
The pride of the career is given by the projects elaborated and implemented, those directed directly on the increase of the quality of life of the population (health services, educational services and food services) occupying the primordial place.
Experienced project manager, Catalin knows the secrets of collaboration with project teams, internal and external, being a spirit of dissemination to teammates, based on the reality often encountered "in practice".
Engaged in various international projects (South East Europe, IPA RO-SE, HU RO CBC, Climate Kick), he knows the culture and lifestyle of the peoples of European countries, taking from professional practice elements stipulated in the EU Treaties, with application nationally.
The dual education system represents an area of interest for Cătălin, the collaboration with the authorities for the programming and realization of the interventions, on various fields of activity being realized constantly, during approximately 1 year.
These areas of activity are still in his sphere of interest and he is constantly trying to develop his skills, in order to be able to disseminate them among those interested, information meant to support them in carrying out their own activities, especially related to development.
The following motto is best suited to highlight the position that Catalin has and will always have in front of the people he meets: "The value of a man should be seen in what he gives and not what he is able to recieve" (Albert Einstein).