Cristina Voaides
Consultant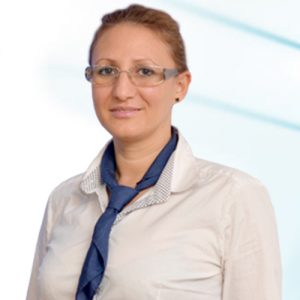 Area of expertise: non-agricultural investment projects in rural areas (funded by RDP) and cross-border cooperation (RO-SE, RO-HU).
Contact: cvoaides@expertconsulting.ro
She is a dean of experience in working as a consultant in the company, after Marian and Camelia Mocan, and in all these 10 years she has assumed agricultural and non-agricultural investment projects in rural areas (funded by RDP) and CBC (RO -SE, RO-HU).
Cristina is a graduate of Western University of Timisoara, Faculty of Commerce - Services and of a Master in Tourism Management and Marketing. Other relevant credentials for her work at Expert Consulting: Management, Project Manager, Procurement Expert, Trainer.
Cristina is easy likeable for the clients, performing both in maintaining the relationships with business clients, and the promotion and sale of the company services. Colleagues noted that she receives more flowers from clients, at March 8.
Real 'diplomat', that because she has mastered the art of public conversations and dialogues with interlocutors effectively, adapting to their expectations and their communication style.
Able to cultivate business relationships with each client, maintaining permanent contact with them, so as to ensure the deadlines for each phase of the project are respected, and her efforts to balance the shortfall of specialized information available to clients and to clarify the role and their contribution to the success of their own project are efficient.
Autonomous in activity, although she admits that the team helps when you face personal, psychological or emotional difficulties, and supports you when you have more work to do or when you're under the pressure of deadlines, especially on the administrative side, multiplication, preparation and checking the documentation.
Conscientious and perfectionist, Cristina has set target to be seen as a professional consultant in her area of expertise and specialization. Being an excellent professional, she always seeks and finds alternative solutions to any problem raised by the client and partner becoming a partner for clients and financiers as well.
She successfully completed large projects, carried out with public and private beneficiaries, the proof of competence being that, being satisfied, clients have returned.
Experience helped her to create working patterns and methods adaptable from one project to another, taught her to interpret and analyze a balance sheet and deepen a complex domain that integrates agricultural production, processing of the food industry products, public investments in rural areas, tourism through agro-touristic boarding houses and environmental protection.
Most motivates her the success of 'her projects', the moments when passes by boarding and factories raised with the money attracted by her, when running on streets that were unpaved, but they were paved with funds gained through projects coordinated by her.