Adrian Jigovan
Consultant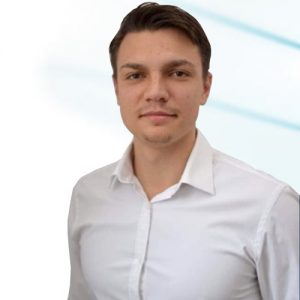 He is among the newest members of the Expert Consulting team, being with us since 2018. Young and enthusiastic, Adrian managed to spend more time with us to develop several projects, still eager to contribute to the development of others.
Adrian, is a graduate of 2018 of the WEST UNIVERSITY OF TIMIsOARA, FACULTY OF POLITICAL SCIENCES, PHILOSOPHY AND COMMUNICATION SCIENCES within the department of INTERNATIONAL RELATIONS AND EUROPEAN STUDIES, being a GRADUATE IN STUDIES "REGIONAL DEVELOPMENT POLICY IN ROMANIA AND THE PREMISES OF REGIONAL DEVELOPMENT THROUGH THE REGIONAL OPERATIONAL PROGRAM 2014-2020", the main theme of this paper aiming at regional development in Romania through European funds.
Currently follows the master's program in accounting with specialization in AUDIT AND FINANCIAL MANAGEMENT OF EUROPEAN FUNDS, within the WEST UNIVERSITY OF TIMISOARA, FACULTY OF ECONOMICS AND BUSINESS ADMINISTRATION.
Being a very passionate person in the field in which he carries out his activity, Adrian constantly seeks to become the best in what he does and focuses, above all, on acquiring skills and knowledge in the field of European funds, obtaining in addition to the studies he has followed and continues to follow relevant certifications by participating in courses such as fundraising and project writing, entrepreneurship and IT skills course, project management course and trainer course.
Believing that in order to provide business advice, as well as in the elaboration and implementation of projects through European funds, the power of example is a perfect method, Adrian is himself one of the beneficiaries of a financing program, which supports young entrepreneurs, recently laying the foundations of a small business financed from the European Social Fund , through the Human Capital Operational Program.
Dedicated in the projects he works on, Adrian gains the trust of customers by focusing on maintaining quality communication with them in order to achieve the result that customers want, the ultimate goal being for all customers to win and be satisfied with the investment which they did.
Practicing for many years a team sport such as Handball, Adrian formed a character based on collegiality being a very good teammate. His colleagues know that they can count on him at any time.
Persevering and motivated, having all the assets, Adrian aims step by step to develop and implement as many projects as possible that will bring a significant impact for all customers and for the community in general.