Camelia Mocan
Training and Consultancy Manager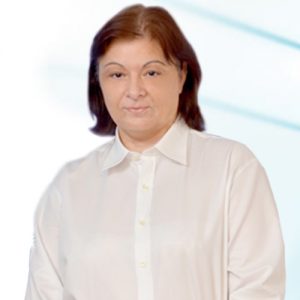 Area of expertise: applied research funding investments, enterprises upgrading and reengineering, human resources development, general marketing, work ergonomics, change management.
Contact: cmocan@expertconsulting.ro
Mocan Camelia is a living encyclopedia, because her knowledge horizon is wide open and being well informed, she can explain scientifically and detailed a very wide range of issues related to work and life.
She is a pioneer, she appreciates the intellectual challenge of pioneering projects in the region, be it the first SAPARD project, about the incubator for dismissed military or the research-development and innovation projects submitted on IMPACT program.
She is motivated by intellectual challenges and learning new things. She studies permanently and doesn't want to go through life without understanding the essentials.
She values the wisdom of someone who understands things in depth and finds connections and relationships between facts and events where others don't see them.
She likes research and development projects that highlight the talent, the human resource, because she is herself an inventive, perfectionist and innovative person. These projects always bring with them a new component and help create a market for innovative products.
She's the kind of project managers who can exploit in the business area the valuable ideas which don't get to market access.
The power of analysis and synthesis that she has represent the ability which helps her to communicate easily, to be empathetic and help customers to understand better their own business.
Her rich experience in customer service and in drafting strategic projects at a large scale make her a pleasant presence in public.
Very attentive to administrative and eligibility details accompanying complex projects, she offers to the team her entire experience and expertise to overcome the delicate moments that can occur in a program funding.
She listens carefully and offers consultancy, and the overall and objective vision that she has on her colleagues' projects allow her to guide the team to put the idea in context, to find the correct reasoning and to do the diagnostic analysis on the feasibility and the actual functionality of that business.
She understands how a project or an investment fit the strategy in a business or organization, and stimulates the collaboration and partnership between beneficiaries and companies with convergent projects, for maximizing the results and create synergies in the market.
She thinks the most important activity in a business is project planning, on this depending the success of an initiative, especially when it comes to the business and money of another. Customers who outsource project management to Expert Consulting delegate confidently to Camelia a part of management responsibilities and expect a transfer of know-how in organizing, controlling and taking difficult decisions under conditions of risk and uncertainty.
Aware that performance is achieved with a team full of vitality, she is interested in the health of the employees and their family wellbeing, helping them to maintain a positive state of mind.
Camelia is a mechanical engineer, being a graduate of the Polytechnic University of Timisoara, specialization Welding Equipment and Technology. She studied for a master's degree in business consulting at Washington State University and holds a professional certificate issued by the Open University Business School London in general management, marketing and financial management. Camelia also owns certificate of specialization in adult training.